A Stylish Holiday Gift Guide
The holiday season is on the horizon and we're not talking about lazy holiday days on the beach sipping a cocktail! That may be what you're dreaming of as the weather gets colder, but back to reality for a minute, as we talk gift lists! Whether you're planning an intimate get together or a massive family reunion, take the hassle out of gift shopping with our ready-to-ship gift list. Here at MAAMI HOME, it is not usual to have handcrafted pieces in stock as we produce per order, but as the Christmas season approaches, we have created a limited number of pieces that are ready to ship now!
So, grab your favourite drink, get comfy and read our 2023 holiday gift list. We've chosen decorative objects which combine form and function embracing marble's timeless beauty. Each of the pieces we have chosen is perfect for the minimalist design and quality lover in your life. All of our pieces are designed with unisex present giving in mind, whether it's your mum, your best friend or your design-loving other half.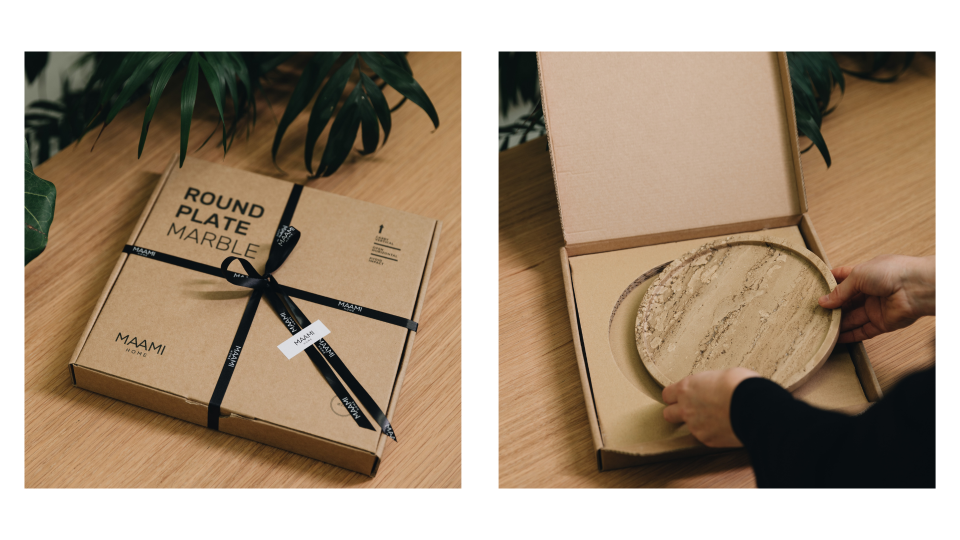 Newly released in 2023, top of our Christmas gift choices are the COPIC and HALF PIPE Desk accessories.
For those who need a little help staying organised in style, our latest desk accessory, COPIC is designed to hold a treasured notebook, pen or mobile phone, whether it's on a desk, sideboard or bedside table. Elegant aged brass curves will hug your beloved items and no more excuses to forget the to-do list! HALF PIPE joins the desk accessory family as a smaller sister, while being compact in size, it offers similar functionality also doubling as a practical paperweight encouraging you to organise that messy table! Both accessories come in an array of expressive marble and are hand-finished by our artisans, making it a great gift that will stand the test of time!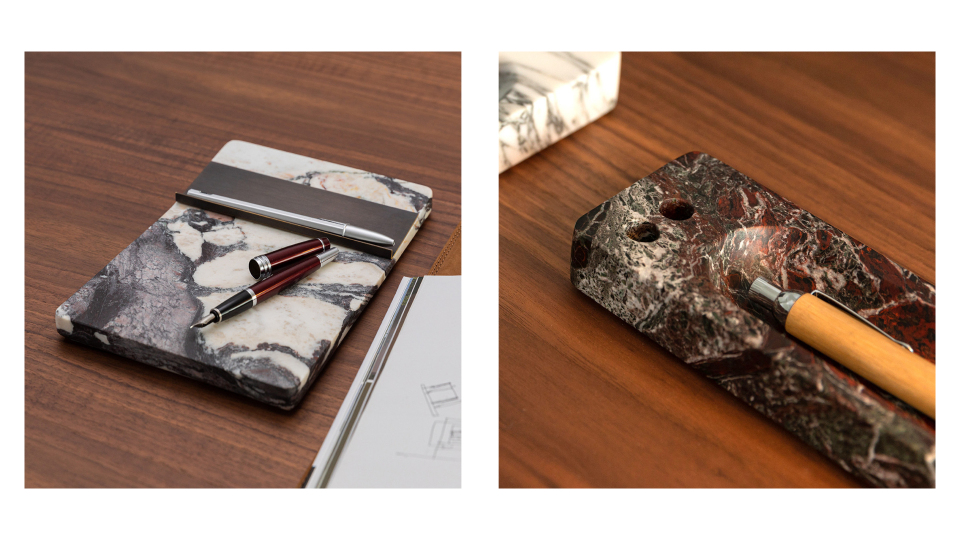 And continuing with the desk organisation theme, LITHOS is an old favorite.
It is a minimal and contemporary pen holder, perfect for the pen collector in your life who always wants a designer pen to hand. We chose to carve Lithos in two different types of marble, one of them being Portoro, a stone which is sought after for its dark deep black decorated with grey and golden veins. Another favorite is Calacatta Viola- white background intertwined with greyish and violet veins which are ruling marble market trends. Choosing just one is a real headache!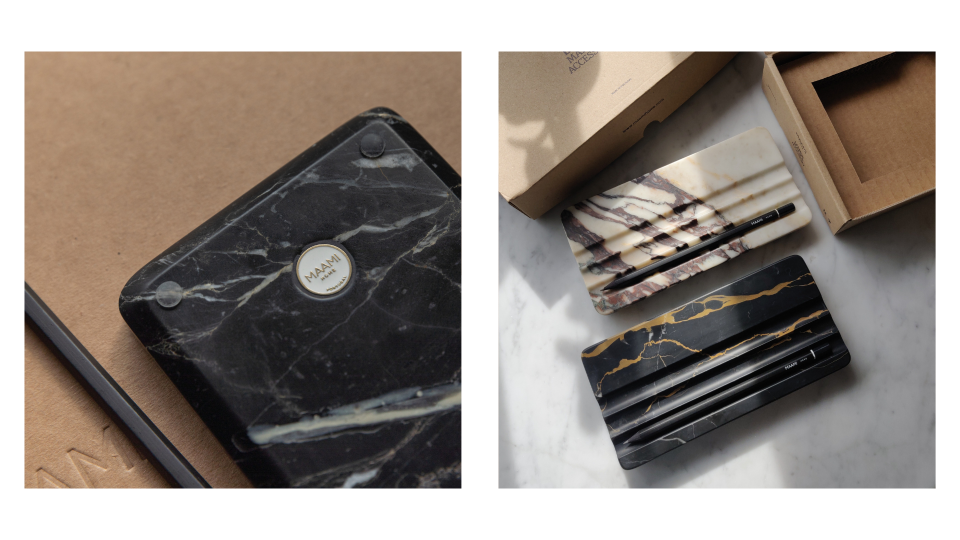 Moving on to our gift choices for the home, which are practical, eye-catching and yet minimal let's talk about light.
As winter days draw in, we often seek for coziness, and who can do a better job than candles especially when they fill your space with warm aromas? Candles are always welcome as a gift, and our sustainably sourced HANDLE NATURE is ready to surprise your recipient as this object allows you to experience four types of marble in one single object. No single HANDLE NATURE is created alike. Our craftsmen combine complementary shades of marble to create the contrasting harmony. Each HANDLE comes with a candle combining cardamom and pink pepper aromas on a woody base of white musk.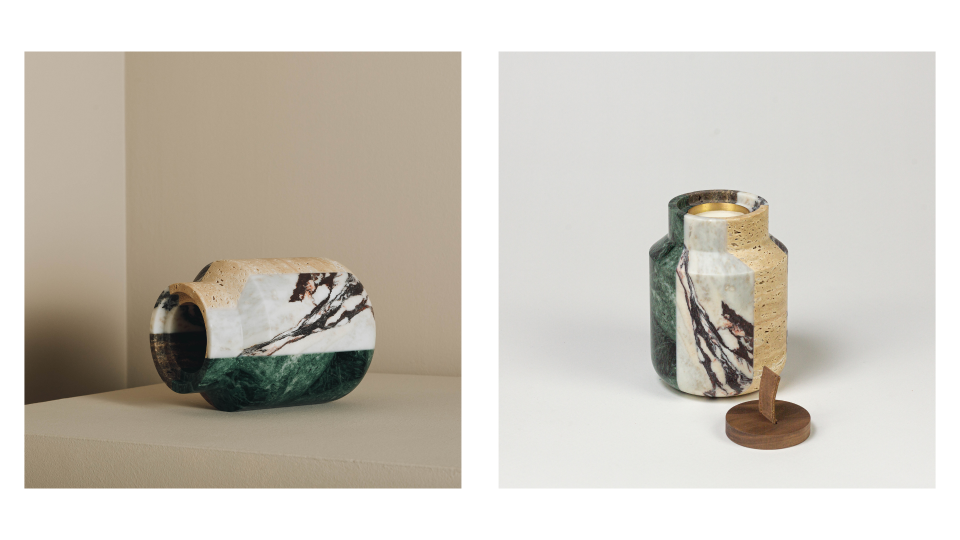 Our final gift suggestion that is guaranteed to wow is SQUARE and ROUND series of trays and plates. Designed to be both decorative and functional, SQUARE and ROUND reflect elementary geometric shapes and when combined with marble they turn into mesmerizing objects. This series were designed to be adaptable for various purposes whether it's for holding personal items on the bedside table, toiletries in the bathroom, or simply as a decorative piece on a dining table. We love to pair these trays with decorative candles or and aromas to create a welcoming and warm atmosphere at home. Give the gift of unlimited options for your loved ones allowing to choose from multiple application options!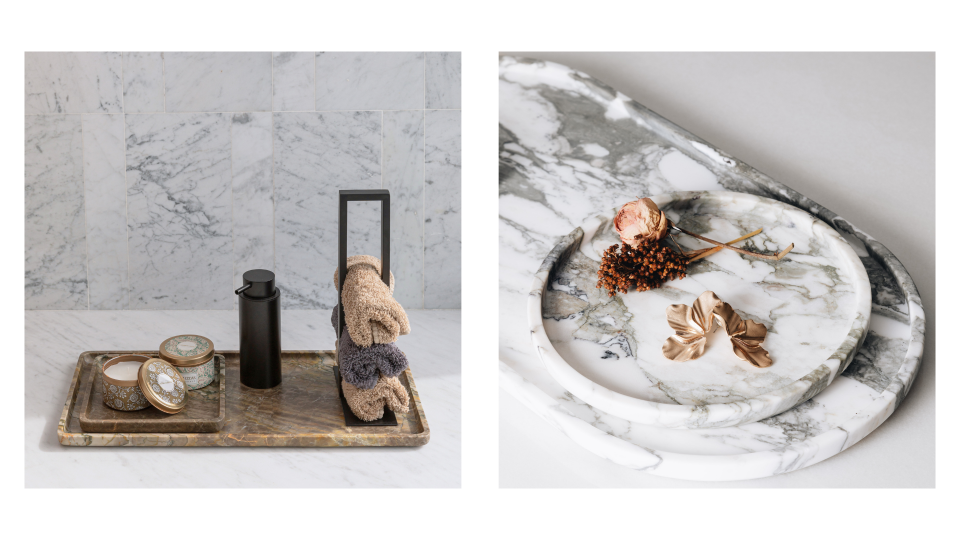 As stock availability and shipping times can change quickly, please place your orders before the 14th of December for European shipments and 4th of December for the outside EU shipments to ensure that you will receive your gifts before Christmas! We have made it simpler for you, so now you can order directly from our website, no more emailing back and forth!