Meet the Designer: Fabio Teixeira
Have you ever thought about the creative genius lurking behind every MAAMI HOME masterpiece? Do you wonder what sparks their inspiration and the wizardy behind their designs? Read on as we talk to our Head of Product Design, Fábio Teixeira in today's journal post.
Fábio's approach to our marble pieces reflects on the words of the great American architect Michael Graves who said, "My favourite project is always the next one". With a work ethic that is very much in this vein, Fábio begins every new project and fully commits to it as his new favourite, living and breathing every aspect of it, from start to finish. That said, we'll let you in on a little secret, that he has a very soft spot for one of his latest designs for MAAMI HOME, the stunning DORIC marble washbasin. Join us to find out more about the designer behind our pieces and his inspiration.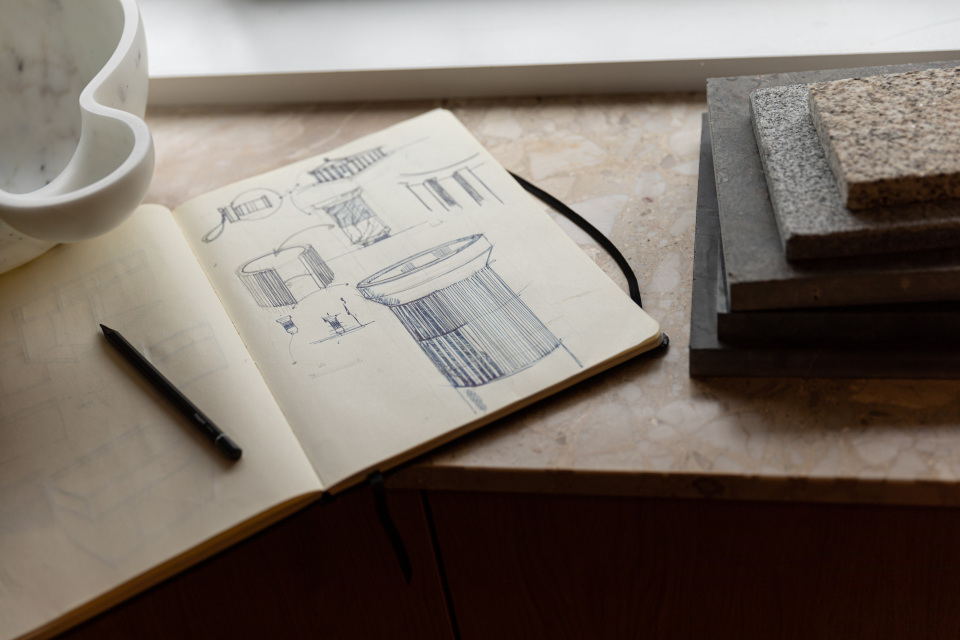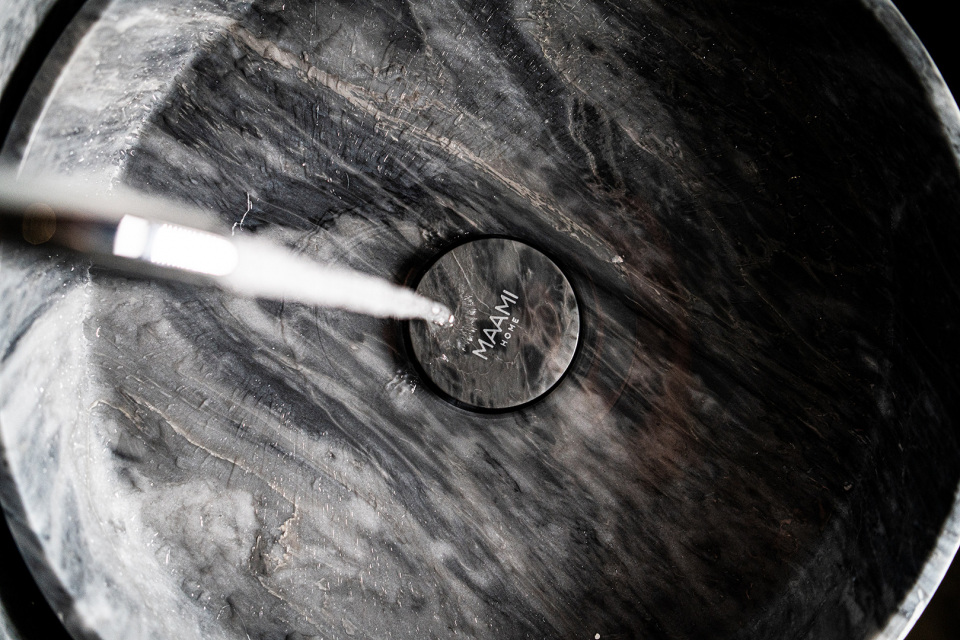 Award-winning passion
It goes without saying that Fábio is an award-winning designer - we're sure you'll agree that this is reflected in each and every one of our marble pieces.
In Summer 2023 Fábio featured in the book Portuguese design through a plurality of objects, which highlights a selection of 78 objects, ranging from furniture and lighting to accessories. The book explores minimal designs at a local and international level, through minimal and inmaterial values.
Fábio was one of four finalists in the AD CHALLENGE'21-23 with his upcoming design DOJO, inspired by Japanese interior design and the traditional writing table, still a treasured piece by many Portuguese. DOJO is at once a place to work which can also be converted into a decorative piece, freeing the user from the constraints of the workplace. It was described as a project which showed out-of-the-box thinking and which displayed an understanding of consumer trends and socio-economic factors for homes of the future.
This is on the back of a previous award win in the AD CHALLENGE in 2019, for his TIME sideboard,. as well as his place on the longlist in the Archiproducts Design Awards in 2021 where Fábio was recognised for his unique Fiore Calacatta lamp. Of all of the pieces Fábio has designed and developed, Fiore is one of his favourites and our clients agree - Fiore is one our most sought-after choices across the world.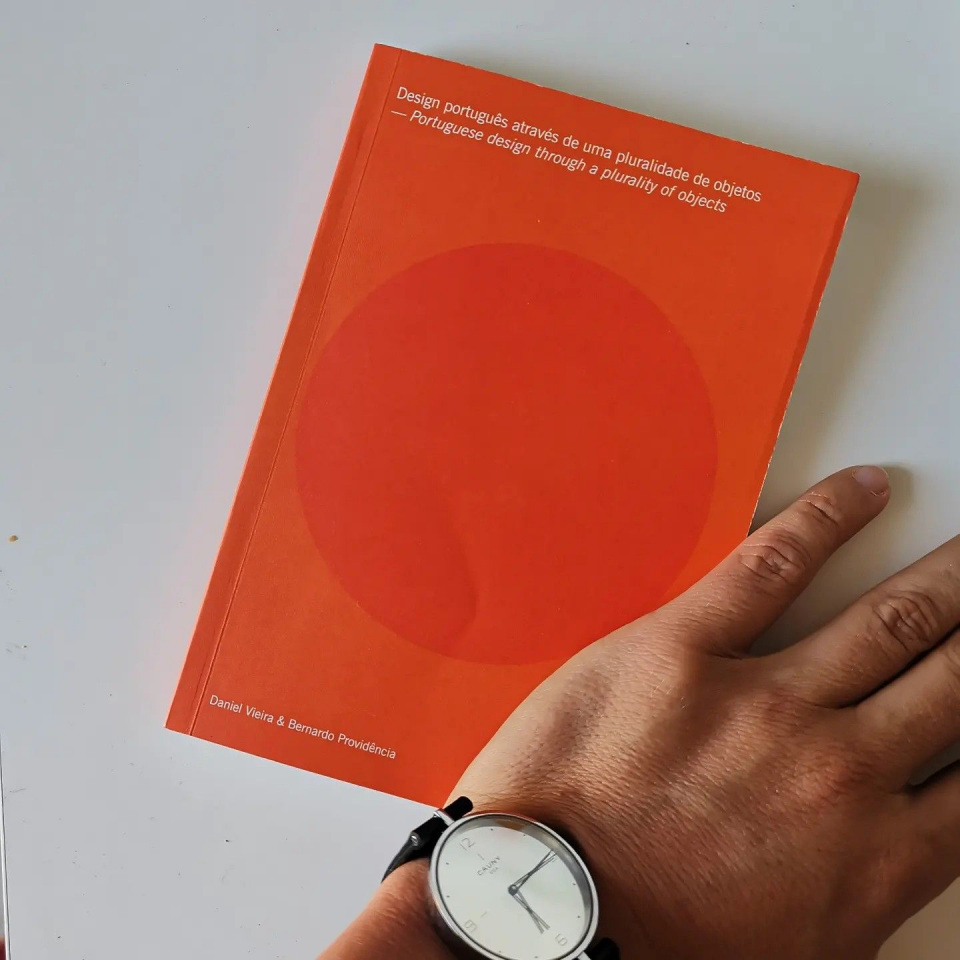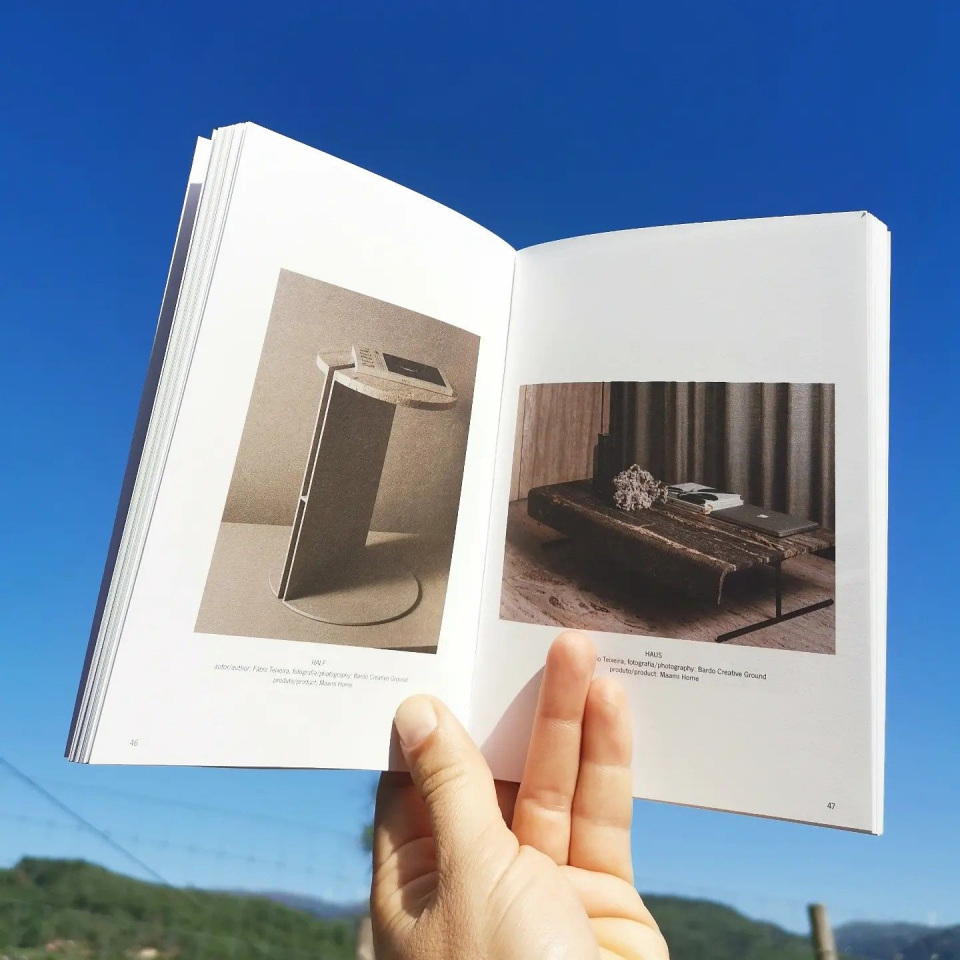 Design style and approach
Fábio heads up the MAAMI HOME design team and is flanked by two product designers, Mara and Mónica.
Fábio's heart beats to the rythmn of architecture and design, and it is here where his passion truly ignites! Mention the name of a designer or architect off the top of your head and Fábio will get back to you there and then with details of their most famous works, their history and their most recent work- and this is what we call passion at MAAMI HOME. A depth of knowledge and love for what he does. Fábio works from a Minimalism point of view, ensuring that discipline and detail are always present in every product he designs, from the initial concept to final sign off an ultimately production, which he accompanies alongside our team of craftsmen and engineers.
"Every piece comes with a story", according to Fábio. These words not only define MAAMI HOME's brand philosophy but also Fábio's concept, design and craft approach to every piece our team makes. Attentive and on hand at every stage of the product development process, Fábio says it is a privilege to work with a precious raw material that makes each piece unique and we couldn't agree more!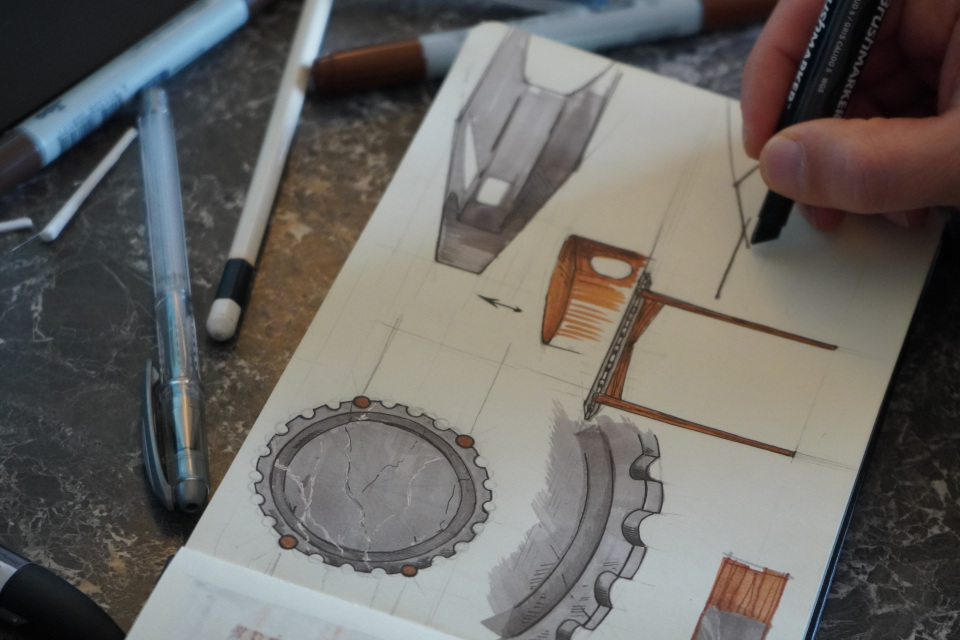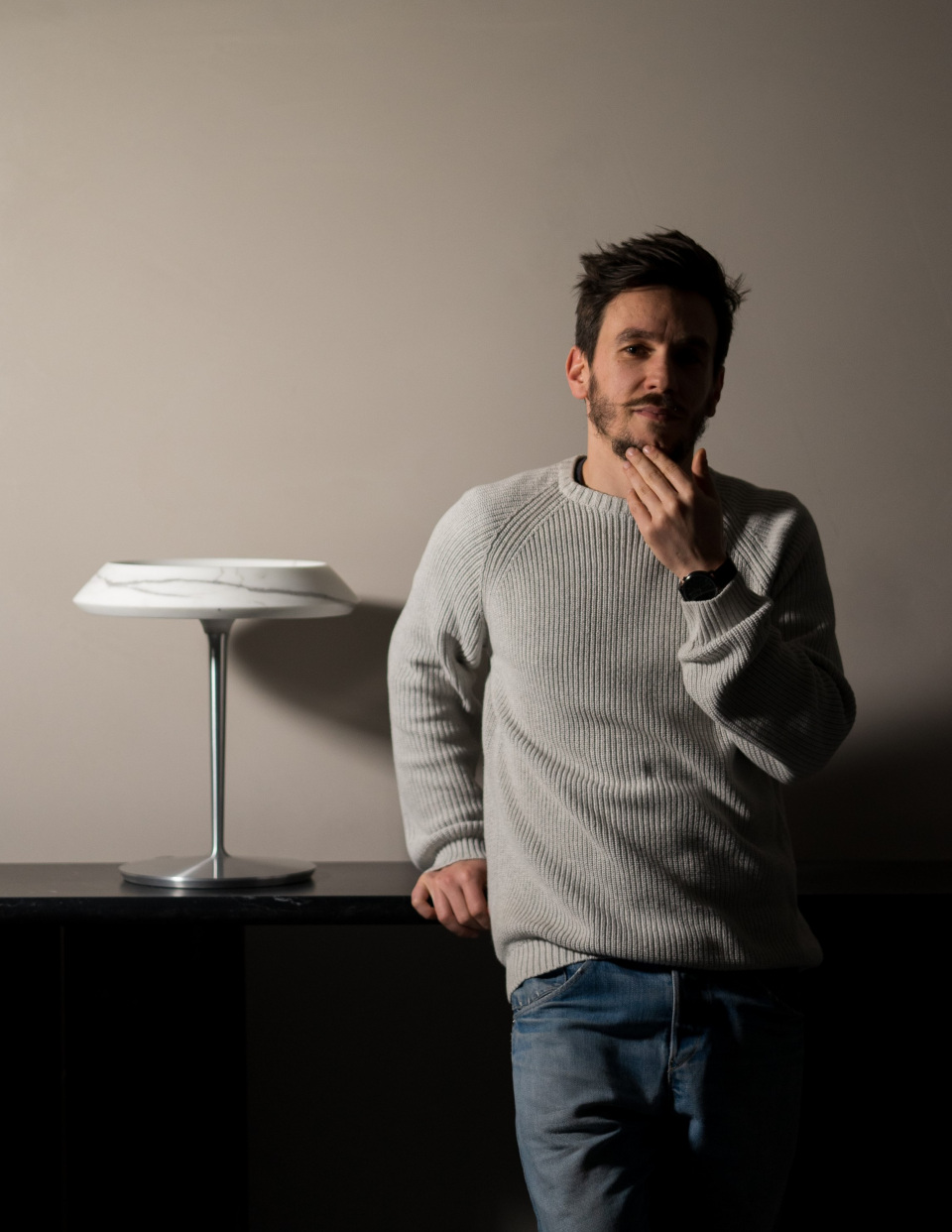 MAAMI HOME & Fábio
Fábio has been the creative anchor of our MAAMI HOME design crew since 2016. Armed with an Industrial Design degree and a passion for shaping things, he swiftly amassed a treasure chest of experience in crafting extraordinary products. He was the pioneer who kicked off our design journey, infusing the team with boundless innovation. Fábio's not just about dreaming up ideas; he's the hands-on maestro who waltzes through the production process, giving birth to each masterpiece, step by step.
Furniture parts and decor sparked Fábio's interest and these are now where his main focus at MAAMI HOME. If he's not at his desk, or there isn't someone popping into the design department in search of him, nor can we find him on the workshop floor, Fábio can usually be found in his quieter work space, with the sound of the cutting machines dulled by the closed doors.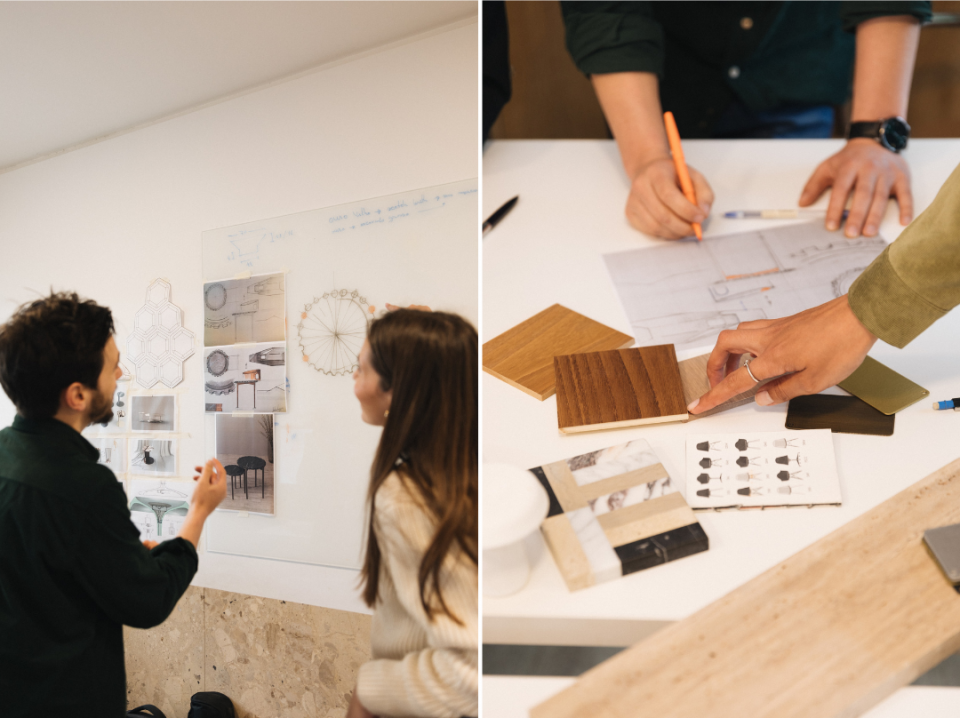 Sustainability in the interior design industry
Sustainability is increasingly recognised as important for the future, and rightly so! We asked Fábio to give us a few words on sustainability in the interior design industry, and how he captures it during the design and production process.
For Fábio, sustainability is bringing the beauty of marble as a raw material to life, showcasing its natural beauty and reflecting on the stone's million years in creation. Sustainability in interior design, and especially stone is preserving as many pieces of nature as possible, and for those that we use, maximising as much of the raw material as possible, to avoid unecessary waste, both of the materials and in the production process. From this thinking, the MAAMI HOME approach to upcycling has developed and forms part of each piece. Our upcycled range is the result of Fábio's love for both marble and sustainability. We have Fábio to thank for these two worlds coming together at MAAMI HOME, where he has introduced new methods of production which focus on sustainable collections. Whether this is from work with our production team to choose specific stones from our yard, to our pieces and our packaging.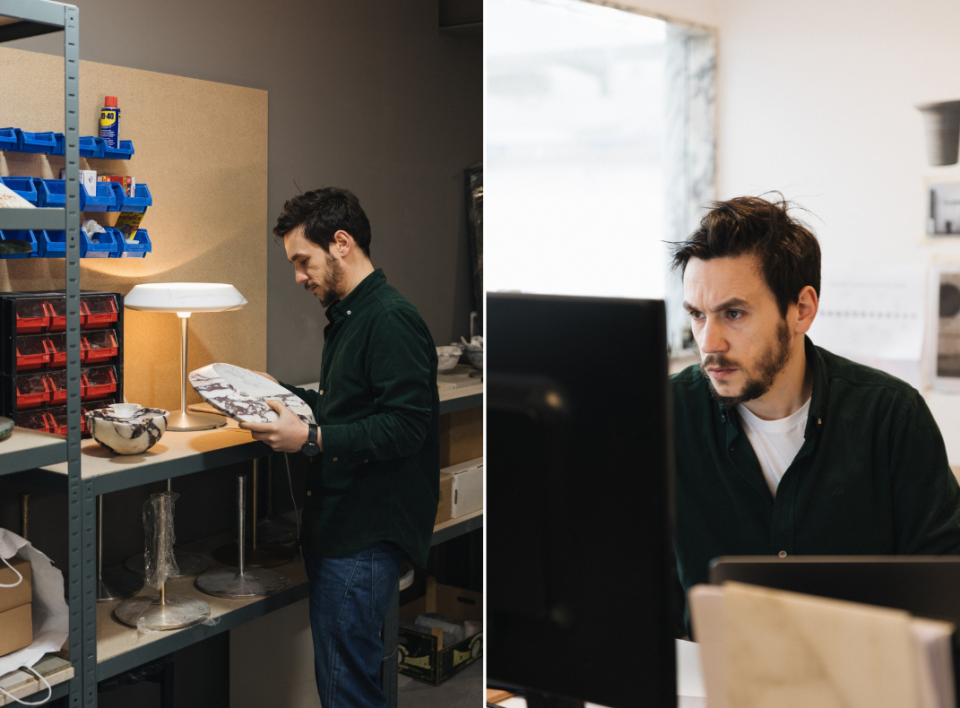 Get in touch with the MAAMI HOME team today to find out more about Fábio's design approach and our upcoming releases.