Must-haves for a productive work space
Working from home or from the office? Looking for top tips on how to maximise a workspace for optimised productivity? Whether it's a tiny workspace or an open space office, there's plenty of design tips out there to help clear the decks, and the mind, for optimised workplaces. We've compiled our three must-haves for a productive work space, so join us today as we look at boosting productivity at work!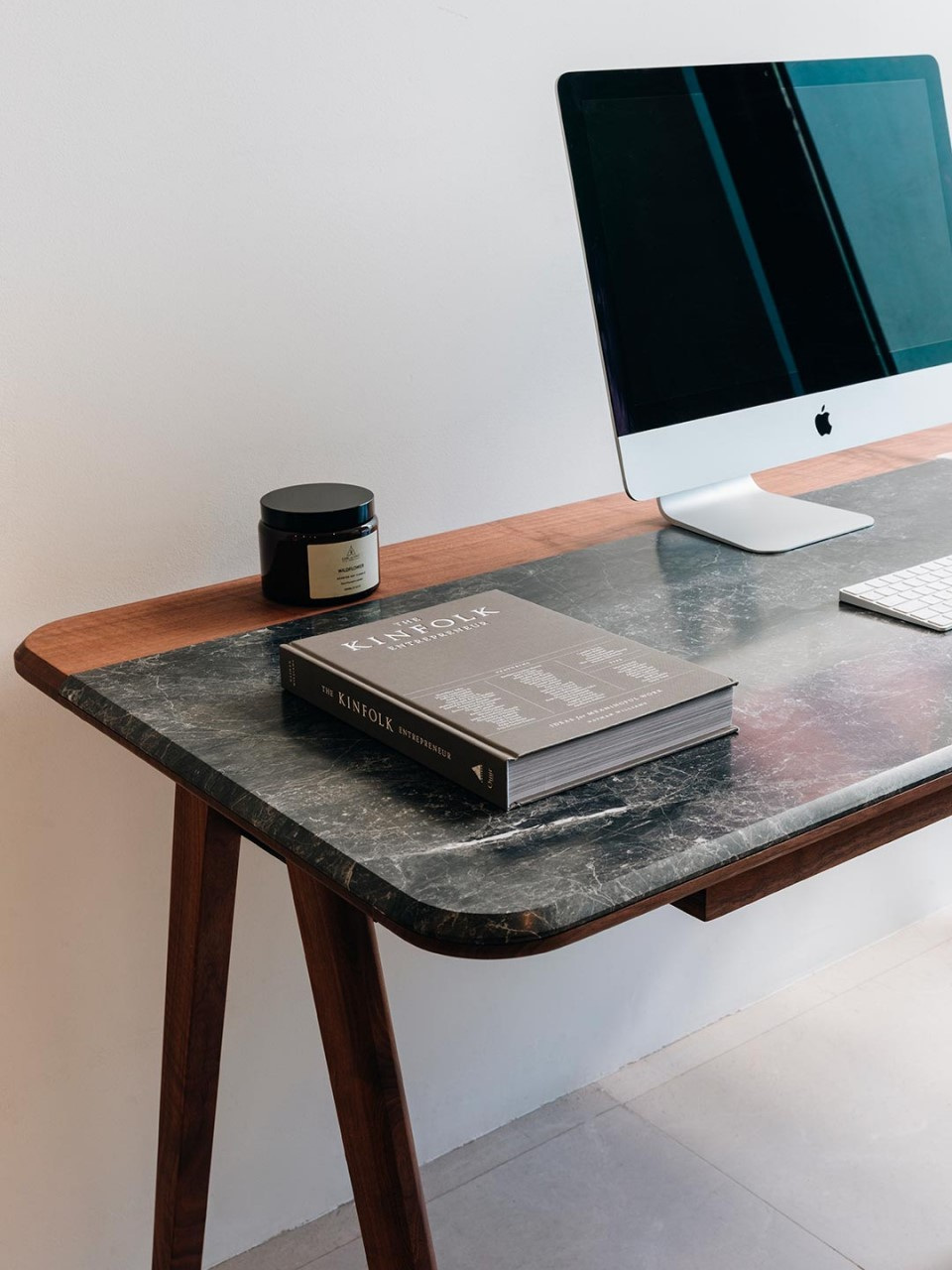 The importance of a productive workspace
So, the first question is, what is a productive workspace and why is it important?
Studies have shown that by creating the right work environment, creativity, wellbeing and productivity increase - a win-win all round, whether it's for a big business or an entrepreneur, goals are met, staff leave on time and a sense of achievement helps boost morale.
A workspace should be defined to ensure productivity is at its maximum and distractions are at a minimum. Distractions can be in the form of mess, electronic devices or unrelated things to do, or even people popping in and out when concentration needs to be at its fullest. So, what can be done to help minimise distractions and maximise productivity for the best possible work-life balance?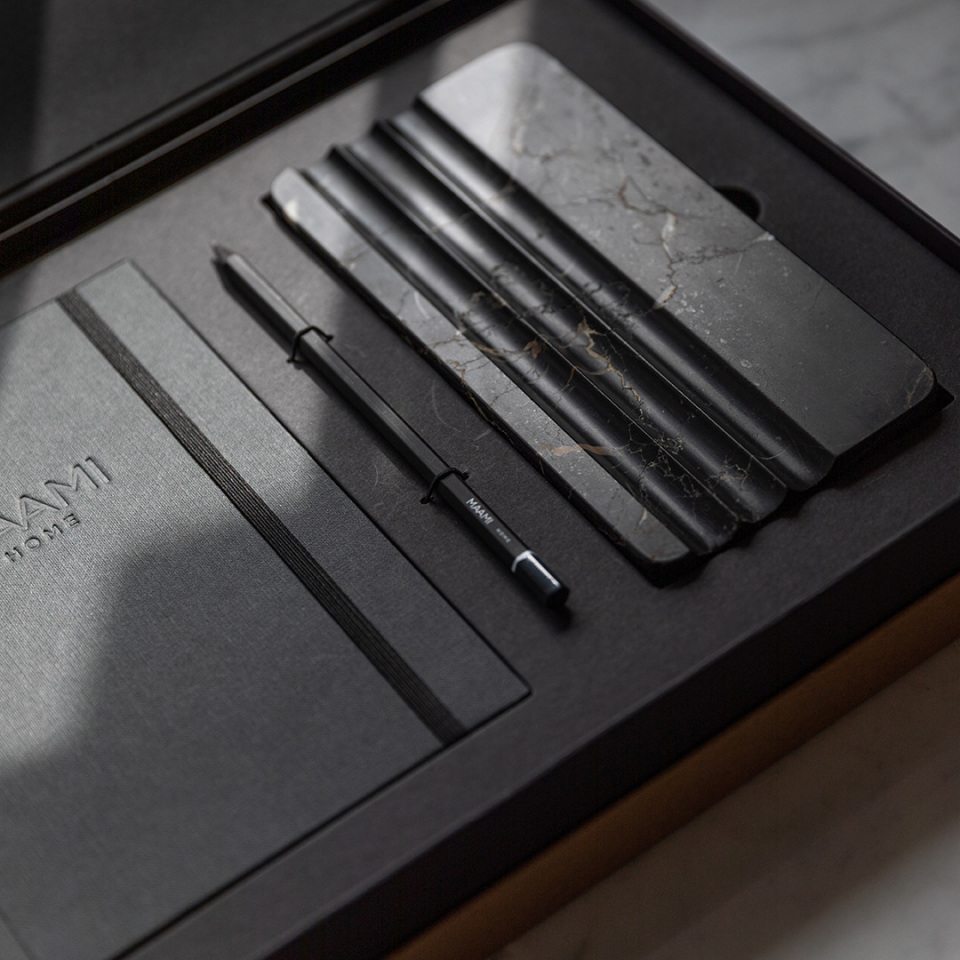 1. Tidy space, tidy mind
Less is more when it comes to a workspace, and the tidier the desk, the easier it is to work, according to a study published in Harvard Business Review. From paper in and out trays, to the simplest of pen holders, keeping a space tidy has a psychological effect and a logistical one, too.
Don't waste time sifting through bundles of paper on a messy desk when an efficient filing system solves the problem of keeping key information at hand. Avoid unnecessary personal stress, by using pre-designed organisation systems and tools to pre-empt an issue and solve the problem before it starts.
The MAAMI HOME marble accessory range was designed with this tidy space, tidy mind philosophy in mind. With multiple uses, from pen holder to paperweight, or simply as a decorative item, the COPIC range is a minimal and contemporary desk and office accessory. COPIC is the ideal to keep your favourite pen and to-do list all in one easy to access place. COPIC pairs beautifully with our DRAFT and BOUVET desks.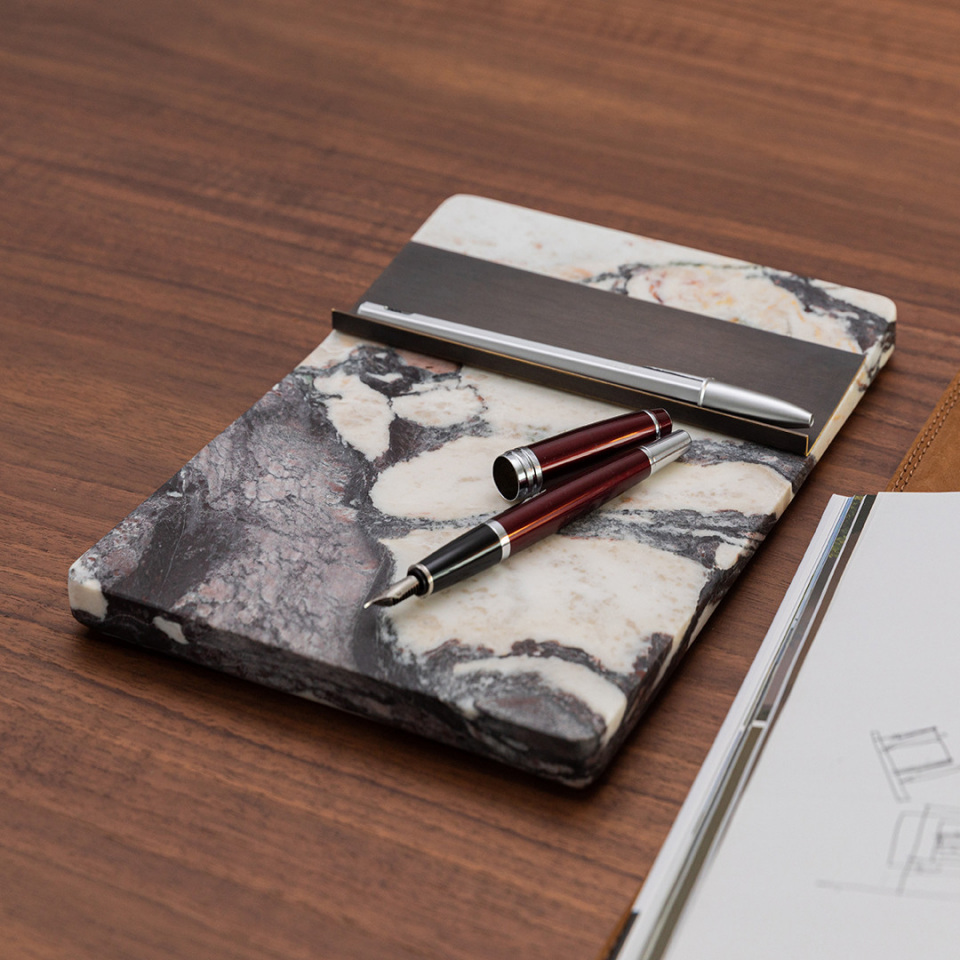 2. Dedicated desk space
It goes without saying that a desk should suit the work to be done. There needs to be enough space for the equipment to be used - whether that's tablets, laptops, one or multiple screens and of course, old-fashioned pen and paper! A desk with drawers helps to keep the space clean at all times, so anything that is not in use can be tidied away, keeping unecessary distractions out of sight.
Still on the subject of desks, next comes focus, the most important element of a dedicated desk workspace. Focus is key for two reasons. First for work mode itself - mentally prepared to tackle the tasks at hand, minimise distractions and feel a sense of achievement. And second, to create a work life balance, where work is left on the desk - be it mentally or physically - or both, at the end of the day, ready for the challenges of the next one.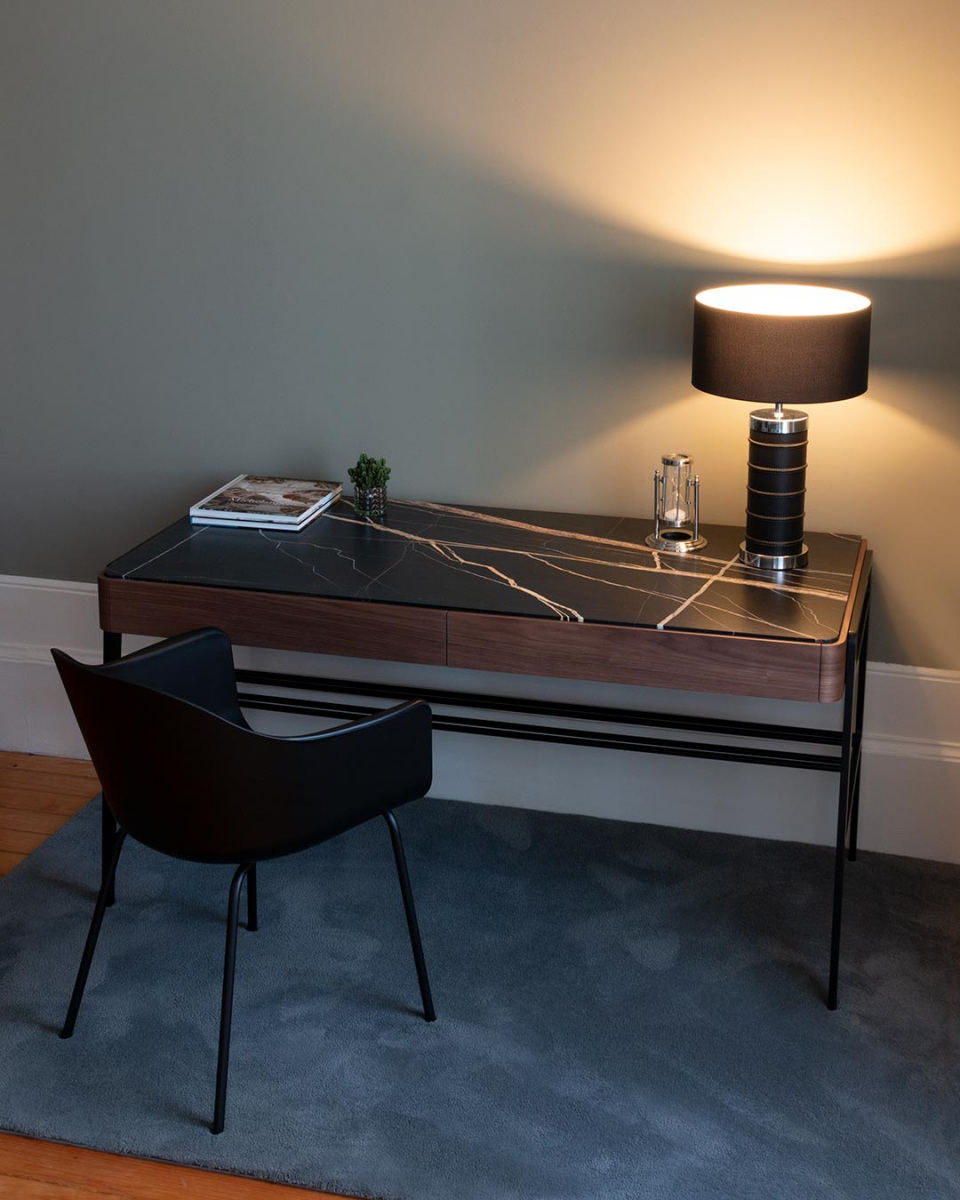 3. Shed light on the matter
Light is key for a good work environment. With health benefits such as making us happier, regulating circadian rhythms and therefore our sleep patterns, which ultimately results in more efficiency and better productivity, it's time to let natural light in, via windows where possible!
On darker days or when evening falls, and work still needs to be done, then a desk lamp is the next best thing. Light in any format helps to prevent strain on the eyes, improving efficiency and reducing weariness. The FIORE desk light is our designer's favourite piece for added light when you need it most.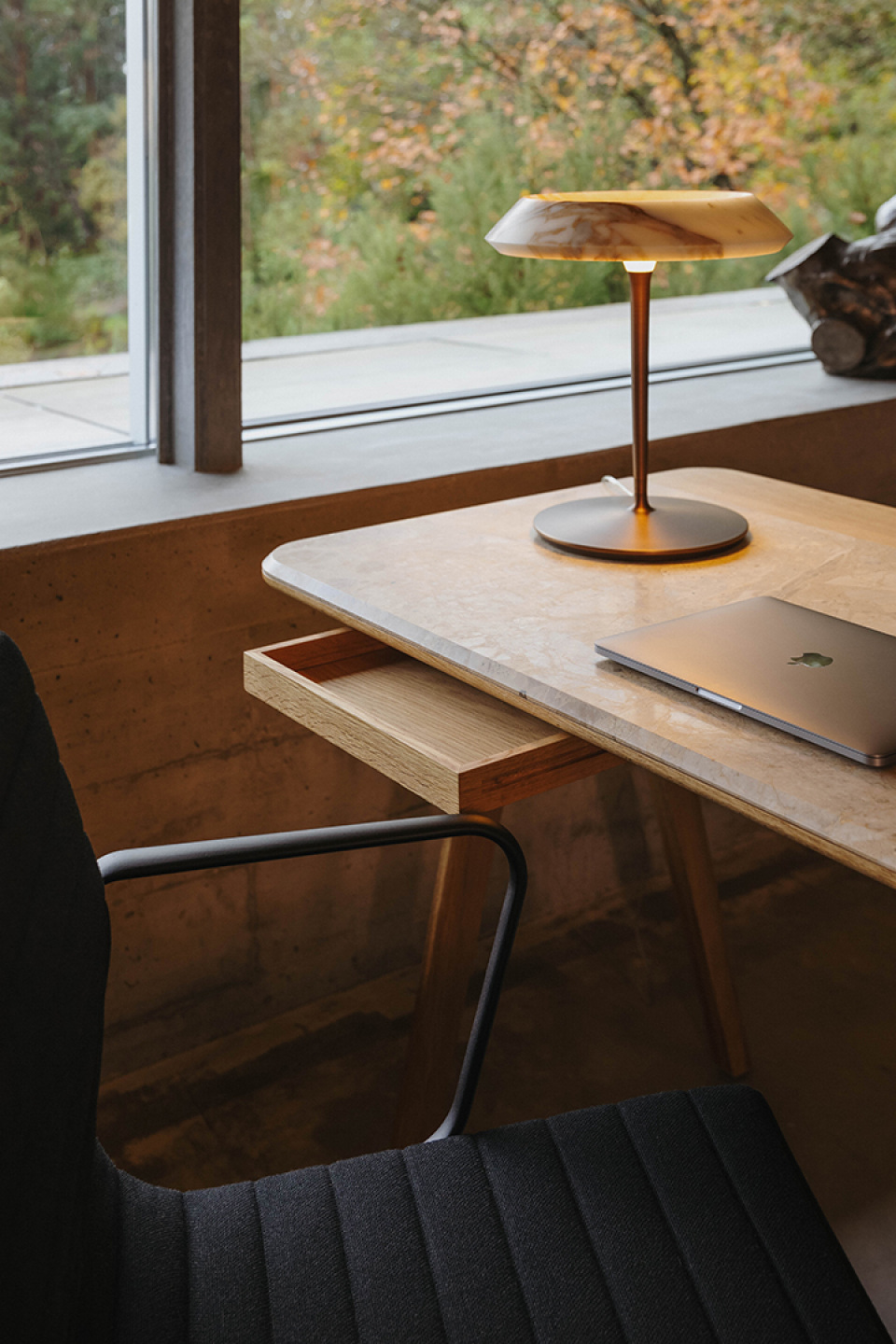 Ready to create a productive work space? Whether it's a desk, lighting or accessories, contact the MAAMI HOME team to find out more about our specially designed and handcrafted marble pieces for the office.