The top 4 outdoor design trends for summer 2023
Dive into the wonders of summer with a touch of sophistication and uncover the design choices that will rejuvenate your outdoor space. We've collated our top 4 design trends for summer 2023 and by the time you've finished reading today's journal, you'll know how to implement them for design-led summer days. So, what are you waiting for, join us outside now!
1. Dark wood is back
One of the top trends for outdoor spaces for Summer 2023 is dark wood - a turnaround from the Scandi lighter wood and blonde tendences we have seen in recent years.
Dark wood patio furniture with chocolate tones is a simple way to update an outdoor space for summer. When furniture is already in situ, dark wood accessories raise the bar even more. Handmade serving trays and charcuterie boards can even be personalised to suit a client's outdoor space and carefully chosen lamps add contrast against the dark wood.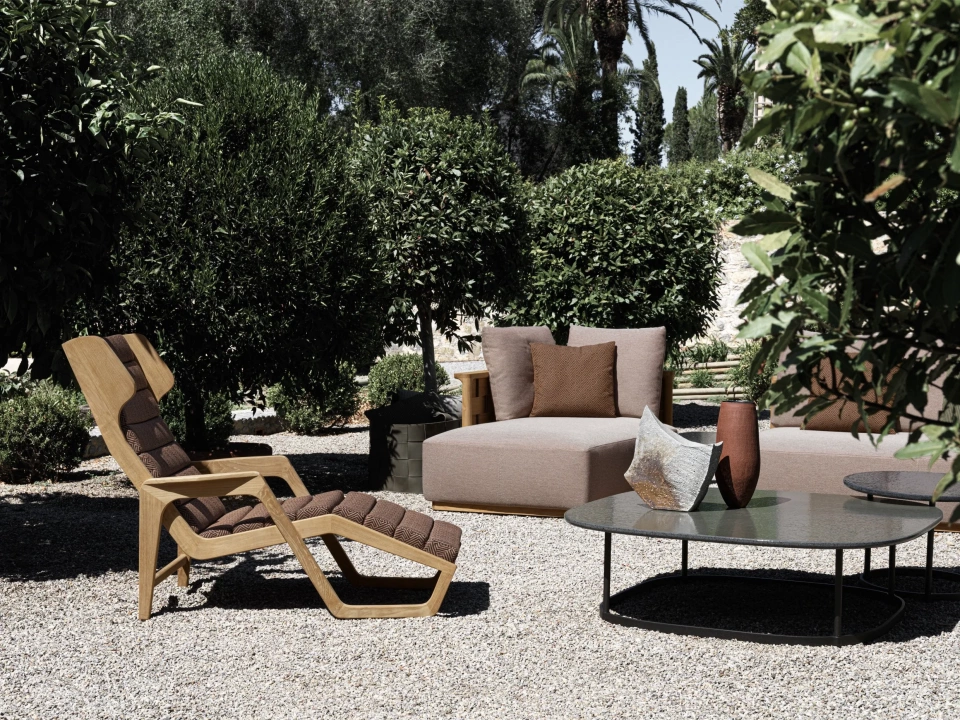 Image: Molteni&C., Heritage Collection
2. An outdoor space to stay in shape
Homeowners are choosing to stay in shape and enjoy their outdoor space with their very own outdoor fitness area, all within a hop, skip and a jump from their home. An outdoor fitness area is the perfect place to enjoy the fresh air and a home workout, with home comforts on tap.
Shade is key for exercise at home and can easily be added to a space with a pergola, a parasol, a shade sail, or by simply taking advantage of the shade of an existing tree. The ground should be level to avoid trip hazards, with wooden decking or marble stone patios an optimum choice.
Wifi access is also a must-have for an outdoor fitness area, for listening to motivational music, to stream a work out that can be done al fresco, or even just for floor exercises or encouragement when warming up.
For the ultimate in outdoor fitness, the Ethimo and Studio Adolini's OUT-FIT outdoor gym is hands down the most inspiring outdoor gym for summer 2023. Constructed in teak wood, it was designed to meet the balance between physical fitness and general wellbeing whilst surrounded by nature. The result is a balance of design and function with health, safety, comfort and sporting enjoyment.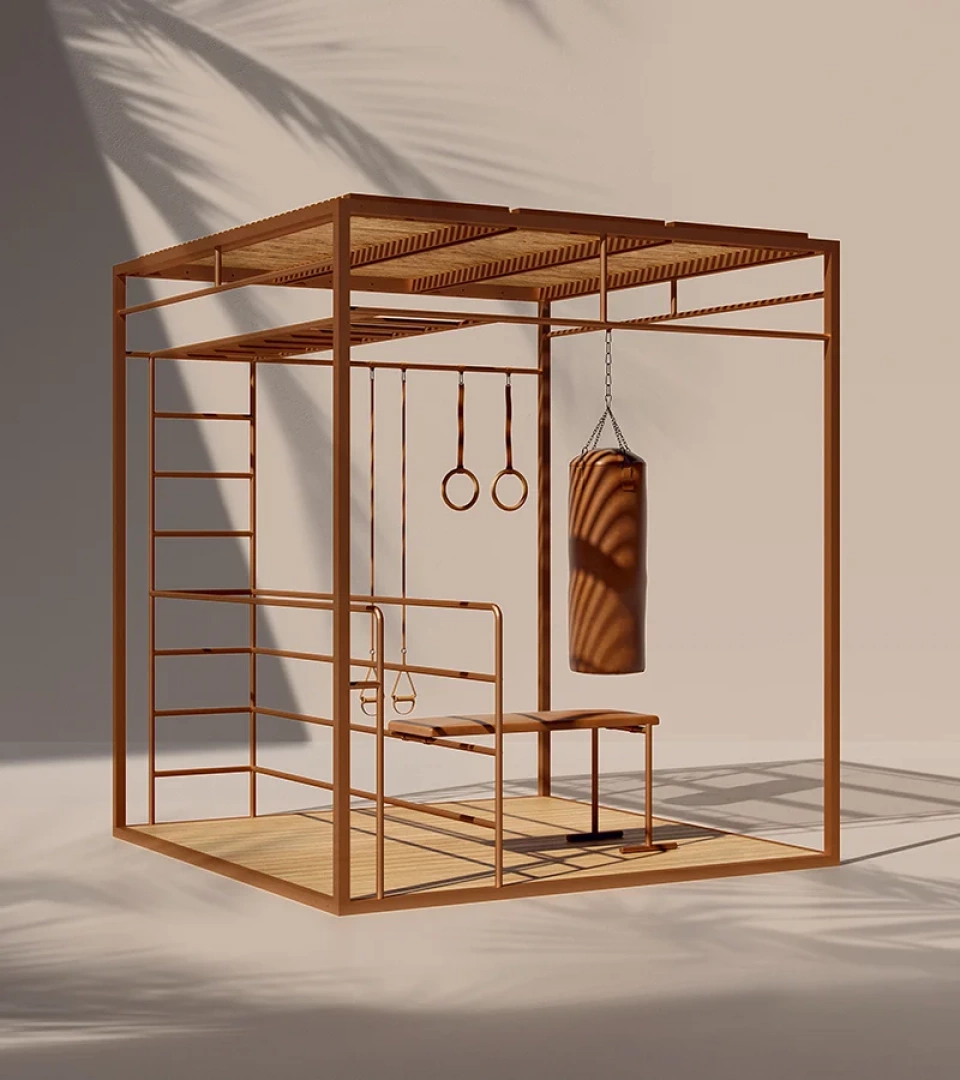 Image: Ethimo
3. Natural Materials meets outdoor marble style
Natural materials such as limestone and wood are always in style, thanks to their longevity and versatility, but as sustainable choices continue to be on trend, they're reaching new heights in popularity.
Their use isn't limited to the interior of the house or office, though, where marble and tile are the materials of choice for kitchens, dining areas and office spaces. Home and business owners are opting for natural stone elements, in the form of countertops and accessories, and choosing marble tile and wooden cabinets over man-made alternatives for added elegance.
With this gravitation towards natural materials which add authenticity, character and natural vibes to a space, man-made materials are out, and nature is back - outdoors as well!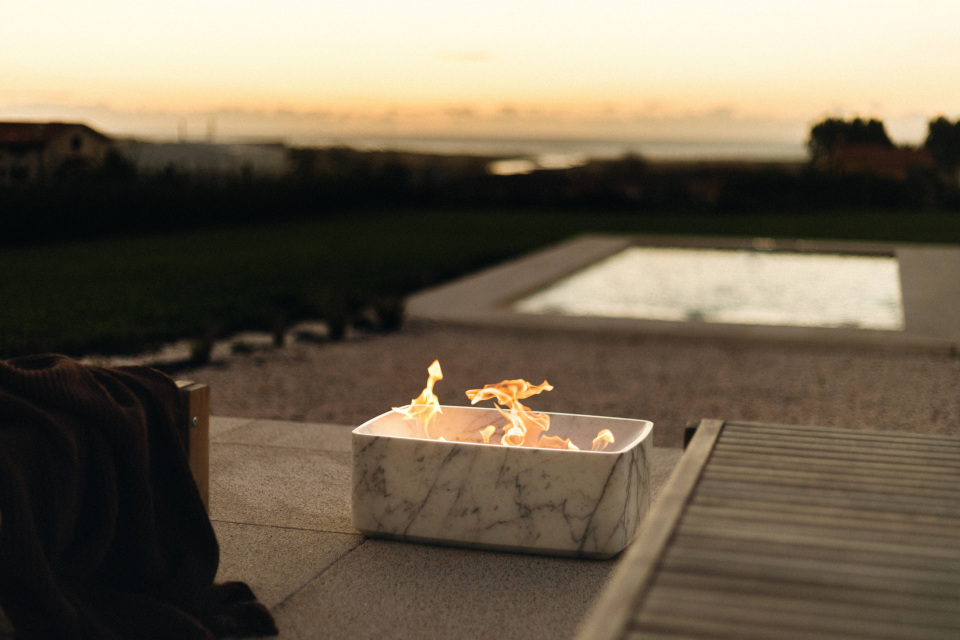 4. Organic style
Organic style is increasingly popular as an exterior decorating style, and rightly so, as man-made takes second stage.
Encompassing all things sensory, organic style includes the crunch of gravel on pathways, natural stone paving and overhead decoration such as pergolas or trellises. All of these together create a natural outdoor feel which embraces all of the senses at once. Added colour in the form of ornamental grasses, flowers in clay pots and trees and choose rattan and jute garden furniture for an outdoor area that preaches to the sustainably converted. Texture plays a big part in how we feel in an outdoor space and one of the latest trends that highlights this is the sensory outdoor area, which brings together textures, fragrance and sounds, all in one place.
A marble side table such as the BUBBLE GREEN GUATEMALA is a timeless piece for added colour, texture and versatility in the form of marble, for your outdoor area.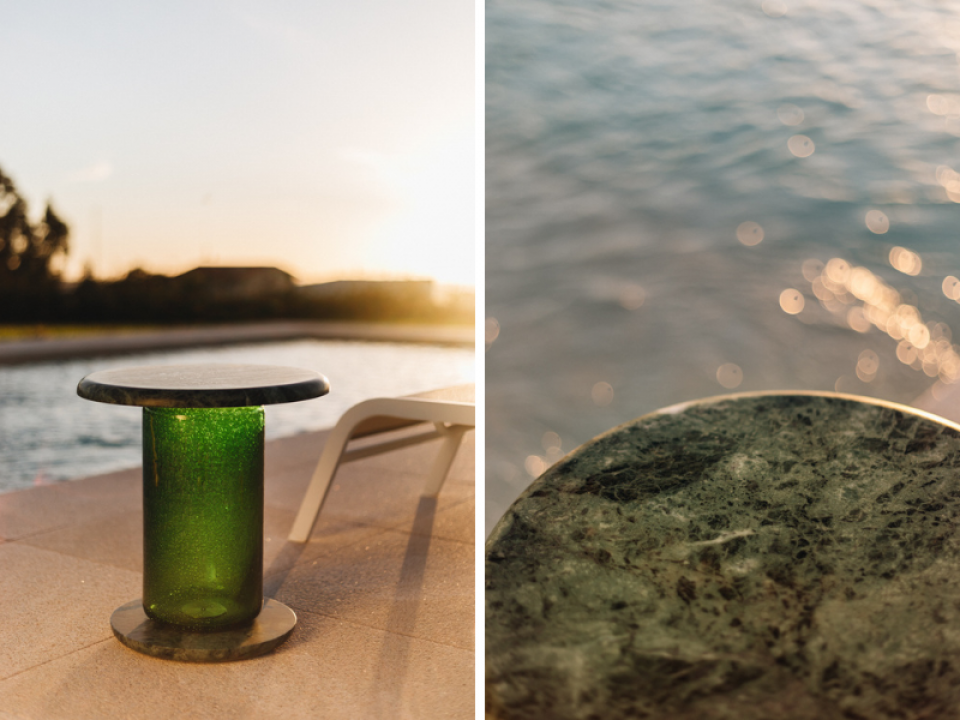 Contact the MAAMI home team today to find out which outdoor summer trend we can help with.