Design Perspectives - Meet the Design Team
MAAMI HOME has many faces. People with different professional backgrounds, but with a great team spirit and a huge passion for creation. The design team is one of the teams at MAAMI HOME that strives to develop unique concepts, and is committed to a design philosophy that embraces simplicity, whilst recognising that sustainability is one of the biggest challenges for the future. Find out more about MAAMI HOME's design team here.

PIANO is one of Sérgio's creations.
Founder and Co-owner, Sérgio Costa is the body and soul behind MAAMI HOME's vision. His main tasks are leading the group, inspiring the team and making sure that everyone is committed to the brand and its design philosophy. Sérgio says that it's a daily learning process but what he likes the most "is having the opportunity to lead towards innovation and motivate people to it". The brand's involvement with the latest technology in the sector is also one of the tasks that Sérgio embraces with enthusiasm, leading MAAMI HOME to be one of the most important players in the sector at an international level. Sérgio graduated in Civil Engineering and worked for more than 11 years in the construction sector. Fun fact about Sérgio? He is always looking for his keys!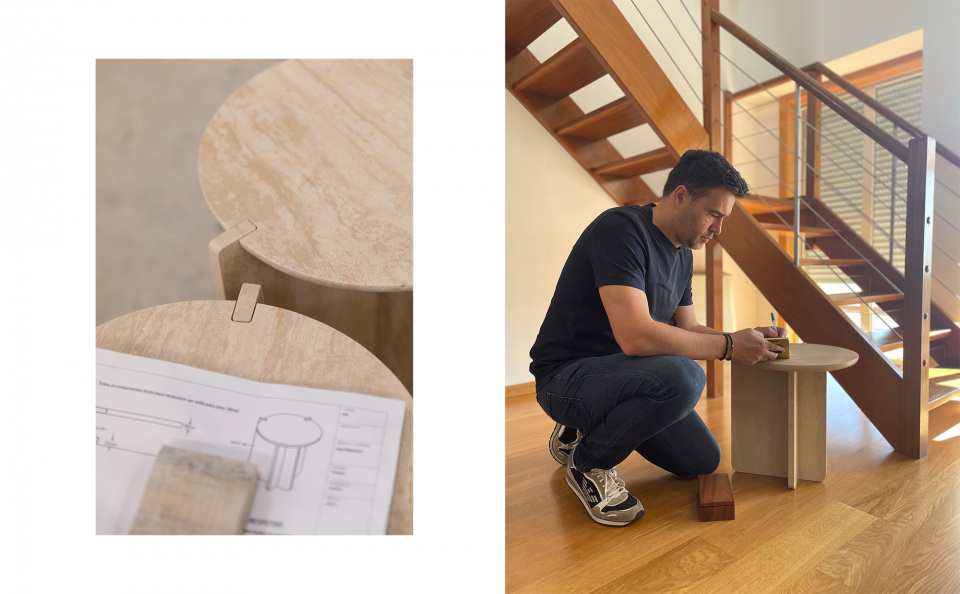 Ricardo next to his NOTCH side table, one of MAAMI's upcycled products.
Ricardo Costa, is Co-owner of MAAMI HOME, alongside his brother, Sérgio Costa. Ricardo's main tasks include monitoring the production process and identifying the best partners for the development of the brand's products. Ricardo has a Masters in Sports Science and was a professional handball player in one of the most important international teams in the sport. Ricardo continues to enjoy the game and in his time away from MAAMI HOME, enjoys being a handball team coach. His passion and commitment to team sports makes him an expert in contributing to the construction of a happy team that seeks out new competences and high performance every day. For Ricardo, simplicity and functionality are the words that best define MAAMI HOME. Fun fact about Ricardo: he likes symmetry, and anything and everything that is not symmetrical makes him uneasy!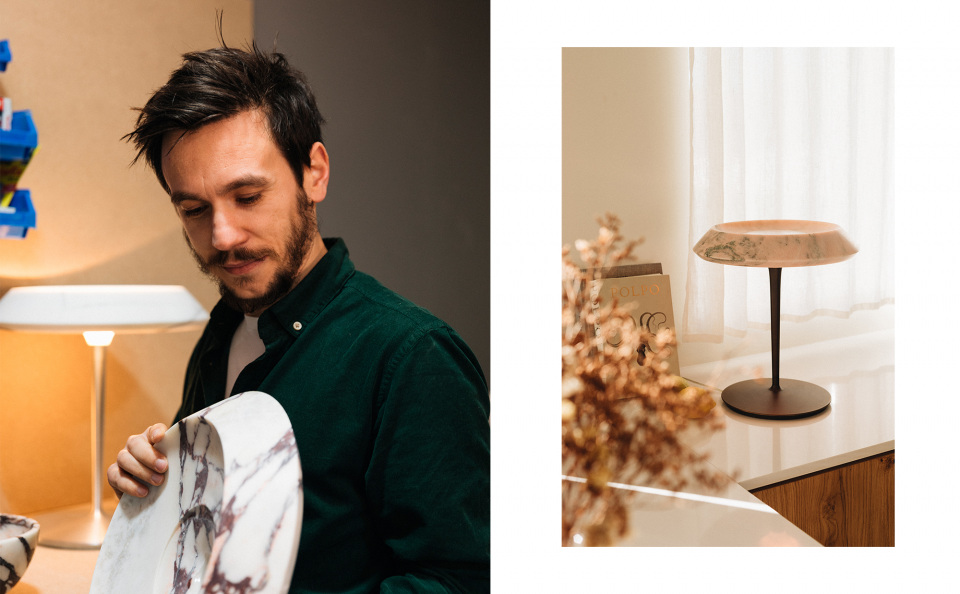 FIORE, designed by Fábio, represents MAAMI HOME's vision of transmitting the versatility of marble
"Every piece comes with a story", according to Fábio Teixeira, Head of Design at MAAMI HOME. And it is these words which best define the brand's philosophy. Attentive and on hand at every stage of the product development process, Fábio believes that it is "a privilege to be able to work with a 'precious' raw material that gives each piece an unrepeatable character". He likes to sketch to the sound of a good vinyl record while enjoying a glass of whiskey, but we often find him in the factory or in the old carpentry shop where the wisdom of woodworking holds him. Detail is at the centre of Fabio's work, and, in the last few years, he has been working with marble as his main material. Marble's minimalism and versatility captured his attention and his determination to transform objects. His works are available at design fairs, selected design stores, as well as in international magazines and publications.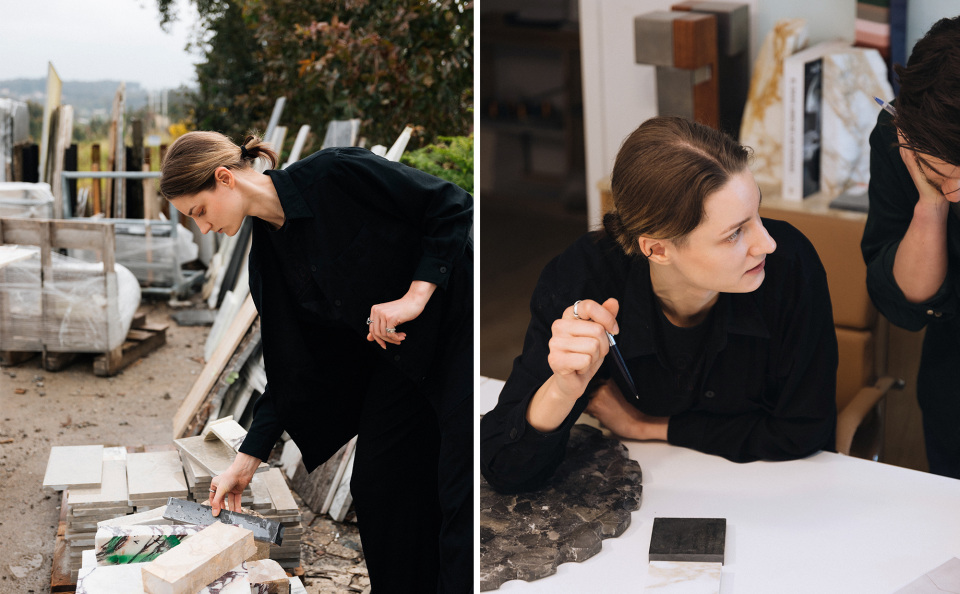 Dovile loves to visit MAAMI HOME's backyard to look at the leftovers and get inspired for new design pieces. She is currently working on the development of upcycled products.
Dovile Peciulyte is Project Manager and CMO at MAAMI HOME. If MAAMI could be defined in an expression, Dovile would say "eye-catching simplicity", emphasizing "that the designs are minimal and "clean", but they can easily become a centerpiece of the home". When asked what she loves about her work, Dovile highlights the dynamics, as days are always "different and give the opportunities to learn and grow while seeing marble slabs being transformed into beautiful objects". Dovile Peciulyte has a Bachelor's degree in Product Development and Integrative Technology and her past professional experiences include projects for Tom's factory in Denmark focusing on optimisation, to design solutions for companies like Fisher Lighting developing circular design lamps. She is passionate about environmental sustainability and has spearheaded the release of one of our upcycled pieces, complementing MAAMI HOME's existing collection. Two fun facts about Dovile? She is taller than 97% of women in the EU and David Beckham once shook her hand.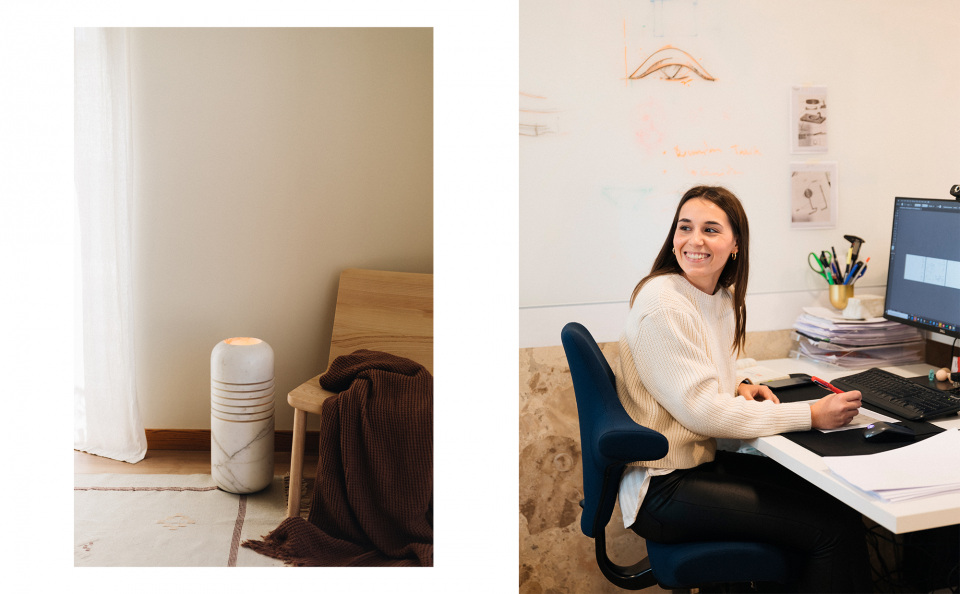 The outstanding lamp LUMI, is one of Mara's designs.
Mara Soares is part of MAAMI's team as a Product Designer. What she likes about the brand is the possibility of creating new products and being involved in the entire development process – from the idea, and the sketches to the final product. Mara graduated in Product Design from the University of Aveiro and MAAMI is her first professional challenge. In Mara's opinion "Make it simple but significant" is the quote that best defines MAAMI because "everything about MAAMI is 'clean' and simple but has a lot of meaning and beauty in itself". Fun fact about Mara: she is the most indecisive person ever (her own words), even in the simplest of daily decisions.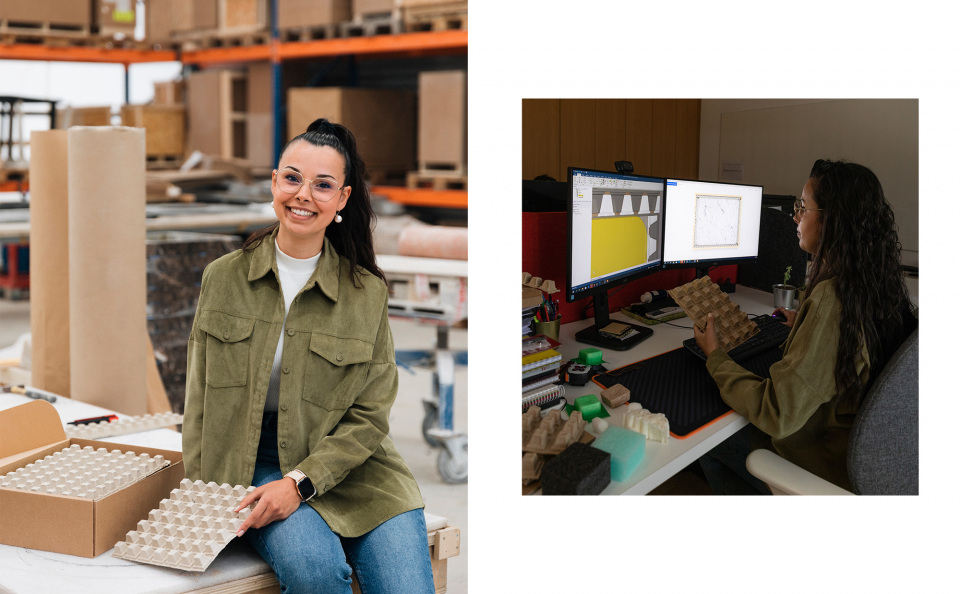 MAAMI HOME is the first Portuguese company, in this sector, to use paper pulp in the packaging and to be 100% plastic free.
Meet Mónica Oliveira, MAAMI's Product Designer and Sustainable Packaging Developer who joined the team in 2021. She is passionate about sustainability and often you can find her digging into material samples, researching, and designing sustainable packaging for MAAMI HOME. "I love the fact that I'm doing something so important for the company and above all for the planet. In this role, through extensive scientific research and testing samples of different materials, we have been able to change our entire packaging system and move to a 100% Plastic Free system", says Mónica. She brings her great experience to our team after doing projects for Bosch and IKEA. Fun fact about Monica: she comes from a very large and close family. She has 30 cousins and over 40 half-cousins. She is the youngest: lucky cousin number 30!
Contact the MAAMI HOME team to discuss your favourite piece, or to find out more about our latest pieces and upcoming projects. We'd be delighted to help and discuss the best pieces and marbles for your living or work space.