Decorative trays, how to use?
With a new year coming it is very common to want a makeover at our home or workspace. It's a kind of New Year's resolution but applied to the places where we spend the most time. There is something that cheers us up when we buy a new sofa, that sideboard we wanted so much or when we finally change the lighting in the living room. The sense of renewal makes us look at the new year as a fresh start, an opportunity to start well with renewed energy.
In 2020 the natural features will be highlighted again. Quality materials, with a great sustainable aspect, will be in the top choices and we will see again the bamboo, cork or wicker in different décor scenarios. Marble stone is one of these raw materials, which stands out for being pure and minimal and for being highly versatile in the way it transforms and adapts itself for various purposes.
And speaking of versatility, there is an object that has gained a prominent place in the living and work environments. We are talking about the tray. Decorative or more functional, the trays have long been on the list of the most produced objects in the home universe, but for a few years now it has been possible to see how creatively they have been used for a much wider range of possibilities.
Square, by MAAMI HOME, is one of the most sought after series precisely because of the multiplicity of shapes, dimensions and the different types of marble stone in which the trays are produced. Decorative and functional, Square trays reflect elementary geometric shapes that adapt for various purposes. We now tell you three places where your trays can shine:
In the office
Clips, staplers, small notebooks, or other regular items can now be neatly arranged on a tray right next to your hand. Trays of different shapes or dimensions allow you to organize objects by purpose. Thus, we arrange the objects harmoniously, mentally and visually, while the trays stand out in the decoration of the desk.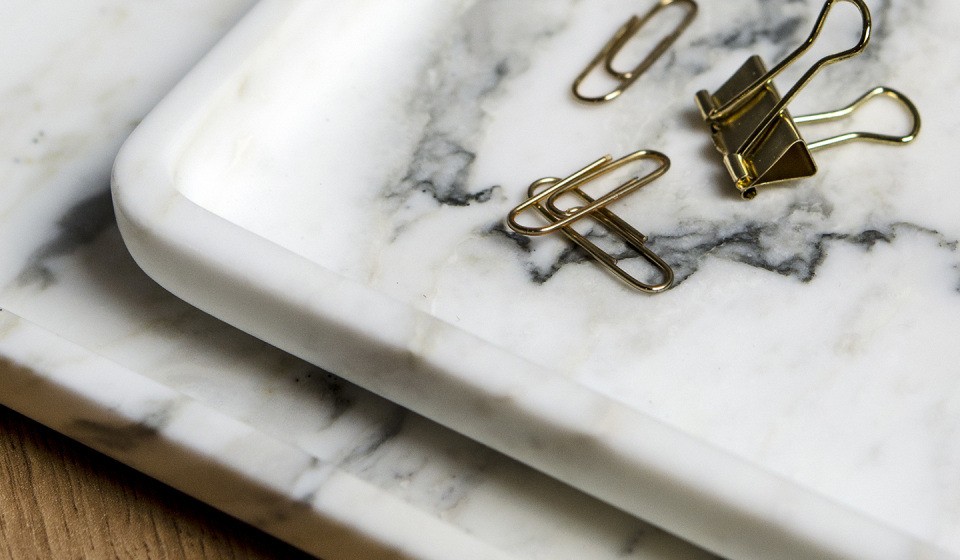 In the living room
Dried flowers will continue to be a trend in 2020. The simplicity of their natural forms is perfectly combined with trays that also convey the shades of nature. You can choose to place the flowers on the stone or place them in small jars, then play with it over the full geometric shape of the board.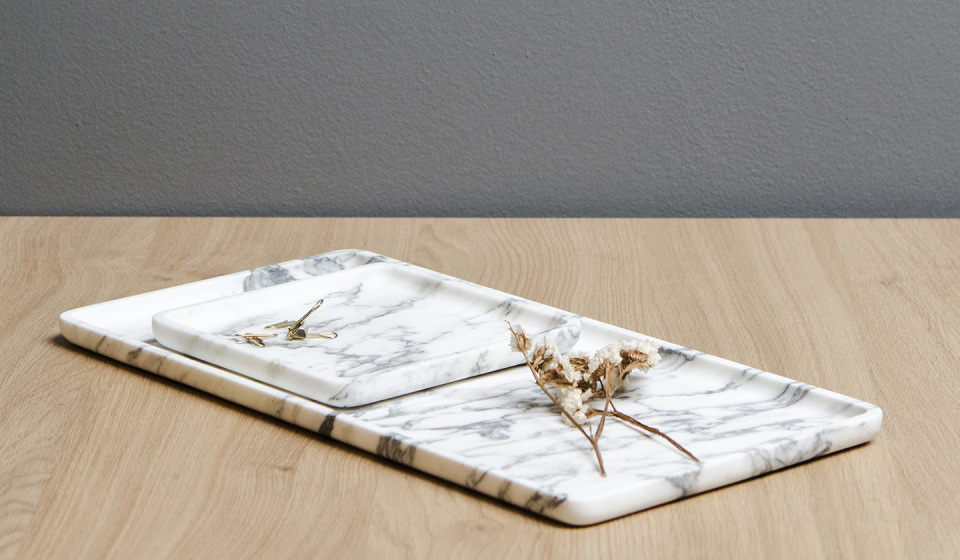 In the kitchen
On the dining table or counter, the trays are a winning bet. The solution brings modernity to any kitchen and, thanks to its simplicity and minimal character, fits perfectly into various decorative styles. To ensure the object's durability and preservation and the tray's original look, be careful not to use liquids or other substances that damage the marble.